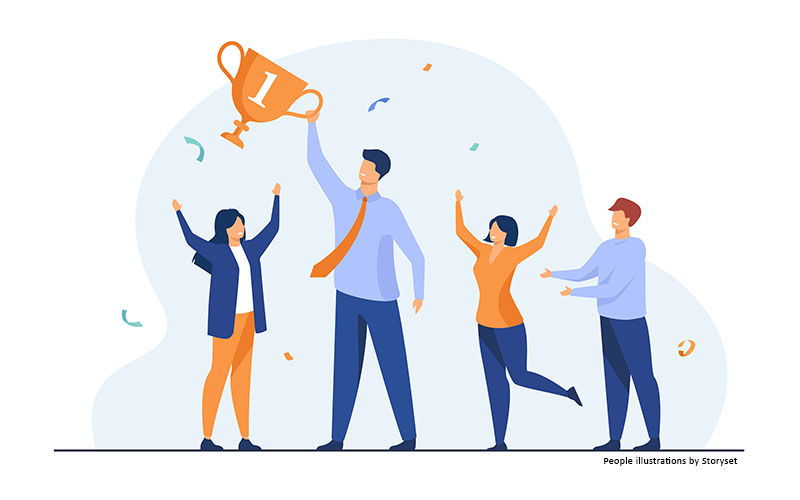 Sales are critical to the success of any business. In fact, without sales, there will be no revenue or growth and ultimately complete failure. Celebrating MEDDIC sales wins or MEDDPICC sales wins is a great way to reward the hard work and effort of the sales team. In this article, we will look at why it is important to celebrate sales successes, as well as some of the best ways to celebrate.
WHY IT'S IMPORTANT TO CELEBRATE SALES WINS
Celebrating sales wins is an integral part of running an effective sales team. Here's a look at reasons why it is so important to celebrate sales:
Boosts morale
Having high morale among your sales team is very important, especially in a challenging and competitive field like sales. The nature of the role means that salespeople will often face obstacles or rejection. It is easy to get discouraged, especially for inexperienced salespeople. Celebrating sales wins and accomplishments is a great way to boost morale, confidence, and motivation. It shows salespeople that their hard work and effort have paid off and that they are making a valuable contribution to the team.
Creates a positive environment
Celebrating sales wins can also create a positive work environment where team members feel good about their work and the contribution they are making. A positive work environment increases job satisfaction. This in turn increases productivity and success rates. It also means that your star salespeople are more likely to stay with the organization, keeping the momentum of success going. This positive environment can spill over into the rest of the organization and can create a culture of positivity and excellence.
Builds a sense of teamwork
Many salespeople may work as individuals. Despite this, sales is usually a team effort where members collaborate and provide support to reach a common goal. Celebrating sales wins can make team members feel more connected and invested in the success of the entire team. This leads to a culture of collaboration, support, and encouragement where team members can grow both personally and professionally. The result is a more productive, more efficient, and more successful sales team.
Big motivator
Who doesn't like getting recognition for their work? Sales is a tough environment where it can become difficult to stay motivated. Celebrating sales wins is a big motivator. It recognizes excellent work and creates healthy competition among salespeople. This in itself can be a strong motivator for a team member to keep on performing at their best. It is a great way to achieve an organization's sales goals.
Creates a culture of excellence
Celebrating sales wins and success can help to create a culture of excellence among the sales team and within the organization as a whole. When salespeople know that they will be celebrated and rewarded they are likely to raise their personal bar of success. This can lead to more wins, increased motivation, and better results for the entire organization.

HOW TO CELEBRATE SALES WINS & SUCCESS
Celebrating sales wins and success is important to maintain a high level of performance among your sales team. It creates a culture of excellence where salespeople feel valued and rewarded for their efforts. But how do you celebrate sales success? Here's a look at nine ways to celebrate sales wins and success:
Celebrate sales wins immediately
It is important to celebrate sales wins and achievements as soon as possible. This helps to keep the momentum going, creates excitement, and boosts motivation. It also keeps the sales team engaged and focused on achieving even greater success.
Remember to make sure that the deal is closed before celebrating. Premature celebrations may lead to disappointment and a drop in motivation and morale, should the sale fall through. What's more, if it happens often, it can have a negative impact on the impact of celebrating success.
Offer sales incentives with an achievement system
A powerful way to motivate salespeople is to offer incentives. However, the achievement system that awards these incentives should be set up in a way to ensure that incentives are earned and not simply given out for participation. Incentives can also vary according to the level and type of achievement. For example, there could be incentives for reaching certain milestones like closing a certain number of deals or achieving certain sales revenue targets.
Automate commissions and incentives
To make celebrating sales successes immediate and incentives even more impactful, you should automate the system. This will simplify the process and ensure salespeople are rewarded quickly and fairly . Ensuring that commissions and incentives will be honored can be a great motivator. Automation makes it easier for team leaders to offer rewards and incentives to salespeople who achieve their goals.
Recognize your team's achievements publicly
It is great to recognize and celebrate your sales team's achievements within the organization. To make it even more meaningful, however, you should announce the success to a wider audience by publishing the news on social media. Getting 'public' recognition for sales achievements is a great motivator. It can give teams and individuals a great boost in confidence, as well as a sense of achievement. When you recognize your team's achievements and successes in this way you also show them that you value their contributions. You show that you are proud of their achievements.
Set up a leaderboard
Creating healthy competition among your sales team is a great way to motivate them to perform at the top of their game. This can be done by setting up a leaderboard that tracks each salesperson's or team's progress and successes. A leaderboard can also highlight the top performers to celebrate achievements and get respect from their peers. As a bonus, competition among salespeople can often lead to streamlined processes and new opportunities to be identified.
Host a sales contest with fun prizes
Hosting a sales contest with fun prizes can create excitement and enthusiasm among the sales team. This can be a competition between individuals, teams, or even departments within your organization. Offering prizes such as gift cards, travel vouchers, or other incentives can create a sense of fun and competition while also motivating the sales team to work harder and achieve their goals. Competitions are great when you have specific goals, such as seasonal sales targets or sales linked to special events.
Connect KPIs to every celebration
Sales goals are formulated to achieve a variety of business goals. Some goals focus on revenue or sales volume, others on market share or increasing the number of customers. To increase the impact and importance of sales achievements, you should connect these KPIs to every celebration. In this context, celebrations can carry more meaning, create a sense of purpose, and create urgency within your sale team. These celebrations celebrate real targets that have a real positive impact on the business's success.
Celebrating sales success and achievement is very important. It helps to create a positive environment in which your sales team can thrive, leading to a thriving business. Celebrating sales shows the team that their efforts are valued and that they make a vital contribution to the business. This can have a very positive effect on your sales team, both professionally and personally.
But… but,… don't celebrate too early (ending this article on a humorous note):